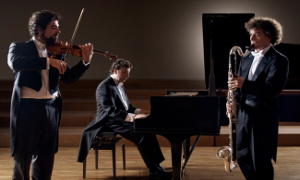 The Trío Musicalis, composed by members of the Spanish National Orchestra, was created in 2008 to gather the members' personal and professional experiences with the aim of modelling and defining the personalities of the violin, the clarinet and the piano.
Its members set up this project after a long musical career carried out individually and after participating in different European chamber music festivals as well as in recordings for RTVE (the Spanish Radio and Television) and Catalunya Radio.
Authors like Bartók, Stravinsky, Milhaud, Khachaturian, Berg, Krenek, Poulenc or Ives among others pledged their commitment to the tonal and musical possibilities of this kind of ensemble. These authors, who composed around forty works in the repertoire for this kind of ensemble, showed that the violin, the clarinet and the piano worked perfectly together in chamber music and therefore, there was no reason to be envious of other ensembles like the classic trio or quartet, woodwind instruments ensembles or brass quintet.
In 2009, the Trío Musicalis' project came to fruition for good with many hours of rehearsals on its back and for the first time it took part in a competition, "Zinetti Competition" reaching the final. As finalists, they were invited to Verona to give a concert and since then they have been giving concerts incessantly.
In April 2011, they will go on tour around Mexico, where they will visit cities like Mexico D.F., Toluca or Queretaro among others.